Product Description
SAMPLE SIZE. ONE TIME PURCHASE ONLY
KAC's MC-210 Mycoplasma Removal Agent (MRA) contains quinoline as an antibiotic due to its mycoplasmacidal properties. Quinoline inhibits mycoplasma DNA gyrase or the topoisomerase IV enzyme and interferes with DNA replication. Recommended treatment dose is 0.5 μg/mL for 1 week. Developed by Dainippon Pharmaceuticals, it has proven to be an effective elimination treatment with low cell toxicity for over 20 years.
MC-210
is a cost-effective solution for eliminating mycoplasma contamination. This agent demonstrates high removal effects against common contaminants such as
mycoplasma orale.
Mycoplasma contamination can alter an endless number of parameters in unpredictable ways. Mycoplasma often cohabits with your cells instead of killing your cultures and it skews titers before producing noticeable effects. It can interfere with
cell migration, signal transduction, lymphocyte activation, and cytokine expression.
Characteristics:

Exerts potent antimycoplasma effects for a diverse range of mycoplasma.

Demonstrated mycoplasmacidal activity. Accordingly, once mycoplasma is removed from cultured cells, mycoplasma does not grow again.

Simple to use - To remove contamination, just add this agent and culture for about one week.
Size:
500uL

Concentration:
50 µg/mL


Storage method:
Stable at room temperature (4°C - 37°C). Please protect from light and store in the dark.
Instructions for Use:

1. Add the agent at a final concentration of 0.5µg/mL

to cultured cells contaminated
by mycoplasma

Example: With 10mL of culture media

in a 25cm² culture flask, add 0.1mL of agent.

2. When the culture media is changed,

add the agent at a
comparable concentration.

3. After one week, add media without the agent

and verify that there is no mycoplasma

growth in the cell culture.
Precautions:
This agent is for research purposes and should be used only as a mycoplasmacidal agent for cell culture. Please strictly follow the required concentration for use (0.5µg/mL). If mycoplasma is still observed after treatment, increase the concentration to 1µg/mL.

Toxicity of this agent to cultured cells is low, and cytotoxicity was not observed at the required concentration. However, for specific functions of cells, please verify that there are no abnormalities after mycoplasma removal.
Reference Data: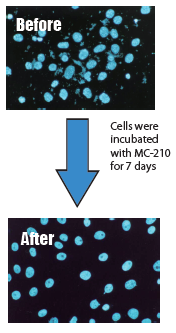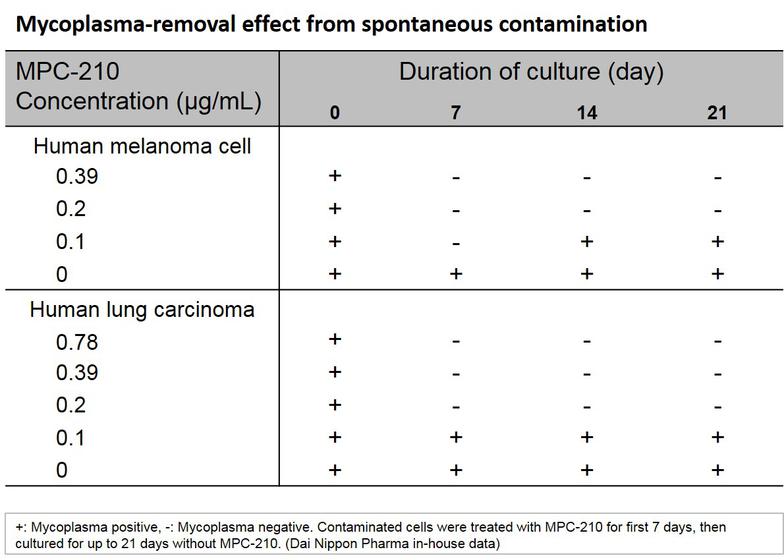 Product Videos
Custom Field
Product Reviews